Ijtimoiy fanlarning matematika fani bilan bog'liqligi
Keywords:
matematika, hisoblash, raqamlar, statistika, fizika, fazoshunoslik, sivilizatsiya
Abstract
Matematika fani tabiat va jamiyatdagi barcha sohalar bilan chambarchas bog'liq hisoblanadi. U nafaqat aqlni charxlabgina qolmay, xotirani kuchaytirish va aqliy kasalliklar bilan kasallanish foizini ham kamaytiradi. Ushbu maqolada matematika fanining boshqa ijtimoiy fanlar bilan bog'liqligi haqida batafsil bayon qilinadi.
References
Aberdein A. Mathematical wit and mathematical cognition. Topics in Cognitive Science 5, 2013, 231-250.
Adams C. The end of mathematics. Math. Intelligencer. 2014.
AmipeeB H. H., KoHoeanoB C. IT., IlaHiOHHH H. M. MaTeMaTnnecKaa cocTaBJunoinnas. M: Ooh# «MaTeMaTnnecKHe 3TIO#K», 2015.
Azamov A, Haydarov B. Q. Matematika sayyorasi. Toshkent: O'qituvchi, 1993, 312 b.
AsaMOB A. ByKeT ot MaTeMaiuK. TauiKenm. «Sharq», 2005, 125 b.
Azamov A. Ilmiy ishlar bibliografiyasi, Toshkent: O'zRFA Matematika instituti. ,2017, 54 b.
Bae C., Conway J., Kohlhase L., Park S. Prague clocks. Math. Intelligencer. 38(1), 2016, 37-39.
Benson D.. Music: A mathematical offering. Cambridge University Press, 2006.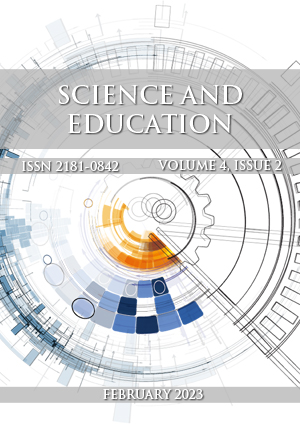 Downloads
How to Cite
Bekpo'latova, M. (2023). Ijtimoiy fanlarning matematika fani bilan bog'liqligi. Science and Education, 4(2), 926–931. Retrieved from https://openscience.uz/index.php/sciedu/article/view/5136
Section
Pedagogical Sciences
License
This work is licensed under a Creative Commons Attribution 4.0 International License.