Memory and its laws
Keywords:
Memory, neuron, psychology, cerebral hemispheres, figurative memory, long-term memory
Abstract
This article describes memory and its laws.
References
Bori Ziyamuhammedov, Mamarajab Tajiyev. Pedagogical technology is a modern Uzbek national model. Tashkent. 2009.
Kharatova, S., & Khusanova, I. (2022). PROBLEMS OF PLANNING ENGLISH LESSONS. Theoretical aspects in the formation of pedagogical sciences, 1(6), 214-217.
Kharatova, S. (2022). PERSONAL QUALITIES AND JOBS. Current approaches and new research in modern sciences, 1(5), 51-55.
Kharatova, S. K., & Ismailov, T. X. O. G. L. (2022). Use of innovative technologies in the educational process. Science and Education, 3(3), 713-718.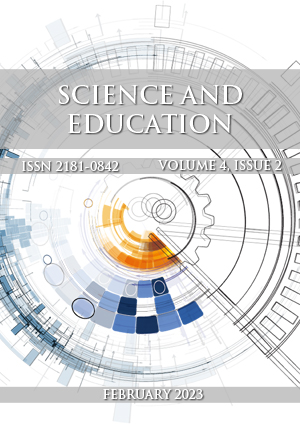 Downloads
How to Cite
Abdullayeva, M., Yangibayeva, N. S. qizi, & Muxtarova, I. R. (2023). Memory and its laws. Science and Education, 4(2), 93–95. Retrieved from https://openscience.uz/index.php/sciedu/article/view/5008
License
This work is licensed under a Creative Commons Attribution 4.0 International License.