Physical rehabilitation in complex therapy of osteoarthrosis
Keywords:
osteoarthrosis, arthrosis deformans, knee pain, physical rehabilitation, exercise, remedial gymnastics
Abstract
Osteoarthritis (OA) is the most common form of joint damage and occupies a leading position among all diseases of the musculoskeletal system. At the present stage, the treatment of patients with knee osteoarthritis joints is a complex process that includes both medication and non-medication methods of exposure. IN in recent years, interest in complex methods of influence in the treatment of patients with this pathology. The incidence of osteoarthritis increases sharply with age, reaching a third of the population in old and senile age. Joint osteoarthritis refers to degenerative diseases. From this it follows that its main cause is a violation of metabolic processes in the body and a deterioration in the nutrition of the articular tissues, which leads to their degeneration, delayed regeneration and progressive aging (destruction). An increase in the life expectancy of the world's population, physical inactivity and an increase in the number of overweight people lead to an increase in the number of patients suffering from diseases of the musculoskeletal system, including osteoarthritis. Considering the lack of specific pharmacological treatment of osteoarthritis, as well as the growing number of patients with this pathology, it became necessary to search for proven technologies of physical and rehabilitation medicine.
References
Alekseeva L.I. Therapy of osteoarthrosis from the standpoint of evidence-based medicine // Consilium Medicum. Extra release. - 2007. - No. 8. - P. 14.
Belova A.N., Shchepetova O.N. Scales, tests and questionnaires in medical rehabilitation. A guide for physicians and researchers. Moscow, "Antidor", 2002, 439.
Bunchuk N.V. Diagnostic criteria for osteoarthrosis of the knee joints. Consilium medicum, 2002, 8, 396-399.
БОТИРОВ Ф. К., МАВЛЯНОВА З. Ф., РАВШАНОВА М. З. ВЗГЛЯД НА ОРГАНИЗАЦИОННЫЕ И СОВРЕМЕННЫЕ ПАТОГЕНЕТИЧЕСКИЕ ОСНОВЫ РАЗВИТИЯ ОСТЕОАРТРОЗА //ЖУРНАЛ БИОМЕДИЦИНЫ И ПРАКТИКИ. – 2022. – Т. 7. – №. 1.
Gitt V.D. Arthrosis and movement // Physical culture and sport. 2009. No. 1.
Epifanov V.A. Therapeutic physical training and sports medicine. Textbook. Moscow: Medicine, 1999.
Kamalova Y., Sobirova S., Mavlanova Z. THERAPEUTIC GYMNASTICS AS AN IMPORTANT PART OF FACIAL NERVE NEURITIS REHABILITATION //InterConf. – 2021.
Камалова Ё. А., Джуманов Ж. А. Значение лечебной гимнастики в комплексе методов физической реабилитации больных остеохондрозом поясничного отдела позвоночника //вестник науки и образования. – 2020. – №. 23-3 (101). – С. 66-70.
Камалова Ё. ОСОБЕННОСТИ ФИЗИЧЕСКОЙ РЕАБИЛИТАЦИИ ОСТЕОХОНДРОЗА ПОЯСНИЧНОГО ОТДЕЛА ПОЗВОНОЧНИКА //InterConf. – 2020.
Камалова Ё. А., Умирова С. М., Наимова Х. А. Влияние различных способов дозирования на физическую работоспособность детей города Самарканда //Материалы XXIII съезда Физиологического общества им. ИП Павлова с международным участием. – 2017. – С. 2248-2250.
Камалова Ё., Собирова Ш. ИЗУЧЕНИЕ ВОЗРАСТНЫХ ОСОБЕННОСТЕЙ ФУНКЦИОНАЛЬНОГО И ФИЗИЧЕСКОГО РАЗВИТИЯ ЮНЫХ СПОРТСМЕНОВ //Журнал вестник врача. – 2020. – Т. 1. – №. 2. – С. 41-42.
КАМАЛОВА Ё. А. ўйин спортлари ва жанг санъатлари вакилларининг таркибий қисмларининг хусусиятлари //журнал биомедицины и практики. – 2022. – Т. 7. – №. 4.
Kamilova R. T., Mavlyanova Z. F., Abdusamatova B. E. Evaluation of the impact of systematic volleyball on somatotypological characteristics of the body //Bulletin of the Kazakh National Medical University. – 2016. – №. 4. – С. 212-217.
Ильин Д. П. Болезни суставов и спины в пожилом возрасте. М.: Вектор, 2008.
Zoxidjonovna R. M. et al. Injuries of the ankle joint in athletes. a new view on the problem of rehabilitation //Art of medicine. international medical scientific journal. – 2022. – Т. 2. – №. 1.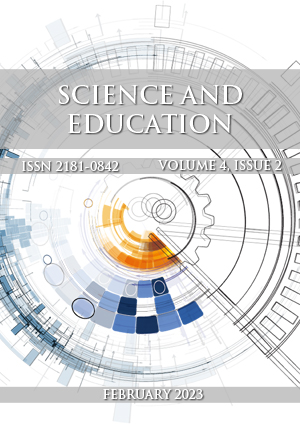 Downloads
How to Cite
Kamalova, Y. A. (2023). Physical rehabilitation in complex therapy of osteoarthrosis. Science and Education, 4(2), 265–269. Retrieved from https://openscience.uz/index.php/sciedu/article/view/5039
License
This work is licensed under a Creative Commons Attribution 4.0 International License.