Болалар бош мия фалажи билан оғриган нутритив статус
Keywords:
болалар бош мия фалажлиги, нутритив статус, болалар, оқсил-энергетик етишмовчилик
Abstract
Ушбу мақолада 254 нафар 2-16 ёшдаги болаларда овқатланиш ҳолатини мажмуавий баҳолаш натижалари келтирилган: шу мақсадда улар икки гуруҳга ажратилган асосий гуруҳда 214 нафар бош мия фалажлиги ташхиси билан болалар, назорат гуруҳида эса - 40 нафар соғлом болалар.
References
Нутритивная поддержка при дефицитных состояниях у детей: пособие для врачей / под ред. Барабаш Н.А., Станкевич С.С., Михалев Е.В., Лошкова Е.В. Томск. - 2015. - С. 9-11
Оценка статуса питания // Учебно-методическое пособие под ред. Адаменко Е.Н., Силивончик Н.Н. - Минск, БГМУ. - 2009. - С. 7-14
Kamala A.A., Iype M., Rajalekshmy K., et al. Nutritional and Feeding Problems among Children with Cerebral Palsy. Kerala Medical Journal, 2014; 7(2): Р. 32-37
МАХМУДОВ С. М., КИМ О. А. ЁШЛАРДА БИОИМПЕДАНСМЕТРИЯГА АСОСЛАНГАН ҲОЛДА НУТРИТИВ ҲОЛАТНИ БАҲОЛАШ //ЖУРНАЛ БИОМЕДИЦИНЫ И ПРАКТИКИ. – 2022. – Т. 7. – №. 4.
Anatolevna K. O., Akbarovna A. M., Mamasharifovich M. S. Zhalolitdinova Shaxnoza Akbarzhon kizi, & Ibragimova Leyla Ilxomovna.(2022). the influence of risk factors on the development of cerebral strokes in children. open access repository, 8 (04), 179–182.
N.Berker, S.Yalcin. The help guide to Cerebral Palsy. - 2. - NY: GH, 2010. 148Р.
Mavlyanova Z. et al. Improving the tactics of treating children with severe cerebral palsy //European Journal of Molecular & Clinical Medicine. – 2020. – Т. 7. – №. 2. – С. 2020.
Mavlyanova Z. F. et al. Correlation of neurological and nutritive status in children with cerebral paralysis //european journal of molecular & clinical medicine. – 2020. – Т. 7. – №. 2. – С. 2020.
Shavkatovna I. M. CHARACTERISTICS OF REHABILITATION OF CHILDREN WITH CEREBRAL PALSY AND SPEECH DEFECTS //Conference Zone. – 2022. – С. 410-414.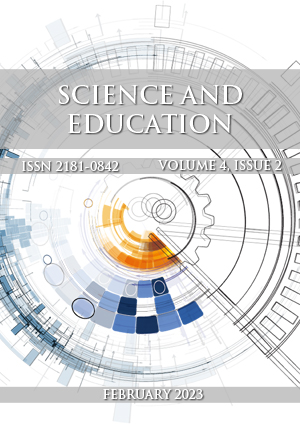 Downloads
How to Cite
Мавлянова, З. (2023). Болалар бош мия фалажи билан оғриган нутритив статус. Science and Education, 4(2), 345–351. Retrieved from https://openscience.uz/index.php/sciedu/article/view/5041
License
This work is licensed under a Creative Commons Attribution 4.0 International License.