Болалар бош мия фалажи буган болаларда клиник-неврологик характеристикаси
Keywords:
болалар бош мия фалажи, неврологик статус, GMFM-88, GMFCS, MACS
Abstract
Бугунги кунда, болалар бош мия фалажи (ББМФ) касаллиги бу жиддий тиббий ва ижтимоий муаммо бўлиб, бемор болалар ҳаёт сифатини сусайишида ва ногиронлик кўрсаткичларини ошишида катта аҳамияга эга.
References
Бафоева З. О. Роль и эффективность комплексной реабилитации при лечении детей с детским церебральным параличом: Тезисы седьмого съезда терапевтов Узбекистана с международным участием "Современные технологии диагностики и лечения при заболеваниях внутренних органов" (24-25 ноября 2017 г., г. Ташкент) // Терапевтический вестник Узбекистана. - Ташкент, 2017. - N3. - C. 149
Мавлянова З.Ф. Нутритивный статус и его состояние у больных с детским церебральным параличом / Ж. "Проблемы биологии и медицины". - № 4. – 2019. - С. 216-222
Маджидова Ё. Н., Заидова А. Х. Оценка эффективности лечения Диспортом спастических мышечных расстройств при детском церебральном параличе //Молодой ученый. – 2018. – №. 18. – С. 128-129.
Умедова С. Э., Равшанова М. З., Холбоев А. А. Исходы беременности и родов при макросомии плода //Молодой ученый. – 2011. – №. 3-2. – С. 172-173.
Brooks J. C., Strauss D. J., Shavelle R. M., Tran L. M., Rosenbloom L., Wu Y. W. Recent trends in cerebral palsy survival. Part II: individual survival prognosis. Dev Med Child Neurol. 2014. № 56. Р. 1065–1071.
Anatolevna K. O., Akbarovna A. M., Mamasharifovich M. S. Zhalolitdinova Shaxnoza Akbarzhon kizi, & Ibragimova Leyla Ilxomovna.(2022). the influence of risk factors on the development of cerebral strokes in children. open access repository, 8 (04), 179–182.
Mavlyanova Z. et al. Improving the tactics of treating children with severe cerebral palsy //European Journal of Molecular & Clinical Medicine. – 2020. – Т. 7. – №. 2. – С. 2020.
Novak I. Evidence-based diagnosis, health care, and rehabilitation for children with cerebral palsy // J Child Neurol. 2014. № 29 (8). Р. 1141–1156.
Schoendorfer N., Vitetta L., Sharp N., DiGeronimo M., Wilson G., Coombes J.S., Boyd R., Davies Peter S.W. Micronutrient, Antioxidant, and Oxidative Stress Status in Children With Severe Cerebral Palsy // JPEN J Parenter Enteral Nutr, 2013. № 37(1). – Р. 97-101. doi: 10.1177/0148607112447200.
Shavkatovna I. M. CHARACTERISTICS OF REHABILITATION OF CHILDREN WITH CEREBRAL PALSY AND SPEECH DEFECTS //Conference Zone. – 2022. – С. 410-414.
Westbom L., Bergstrand L., Wagner P., Nordmark E. Survival at 19 years of age in a total population of children and young people with cerebral palsy // Dev Med Child Neurol. 2011. № 53 (9). Р. 808–814.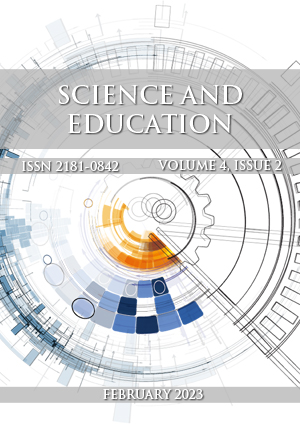 Downloads
How to Cite
Мавлянова, З. (2023). Болалар бош мия фалажи буган болаларда клиник-неврологик характеристикаси. Science and Education, 4(2), 338–344. Retrieved from https://openscience.uz/index.php/sciedu/article/view/5048
License
This work is licensed under a Creative Commons Attribution 4.0 International License.