Комплексная реабилитация больных с поясничными спондилогенными радикулопатиями
Keywords:
комплексная реабилитация, поясничная спондилогенная радикулопатия, неврология
Abstract
В данной статье приводится подробная информация о комплексной реабилитации больных с поясничными спондилогенными радикулопатиями.
References
Парфенов В.А., Яхно Н.Н., Кукушкин М.Л. др. Острая неспецифическая (скелетно-мышечная) поясничная боль. Рекомендации Российского общества по изучению боли (РОИБ). Неврология, нейропсихиатрия, психосоматика. 2018; 10(2): 4-11. doi: 10.14412/2074-2711-2018-2-4-11 [Parfenov VA, Yakhno NN, Kukushkin ML, et al. Acute nonspecific (musculoskeletal) low back pain Guidelines of the Russian Society for the Study of Pain (RSSP). Nevrologiya, neiropsikhiatriya, psikhosomatika = Neurology, Neuropsychiatry, Psychosomatics. 2018;10(2):4-11. doi: 10.14412/2074-2711-2018-2-4-11
Deyo RA, Mirza SK. Clinical practice. Herniated Lumbar Intervertebral Disk. N Engl J Med. 2016; 374(18): 1763-72. doi: 10.1056/NEJMcp1512658
Широков В.А., Терехов Н.Л., Потатурко А.В. Влияние условий труда на распространенность поясничных болевых синдромов (обзор литературы). Уральский медицинский журнал. 2019; 13(181):76-81.
ЭРНАЗАРОВ А. Ж. и др. БОЛЕВОЙ СИНДРОМ И ЕГО ПАТОГЕНЕЗ У БОЛЬНЫХ С ПОЯСНИЧНЫМИ ГРЫЖАМИ //ЖУРНАЛ БИОМЕДИЦИНЫ И ПРАКТИКИ. – 2022. – Т. 7. – №. 2.
Абдусаломова М., Равшанова М. ОСОБЕННОСТИ РЕАБИЛИТАЦИОННЫХ МЕРОПРИЯТИЙ ПРИ БОЛЯХ В ПОЯСНИЦЕ У СПОРТСМЕНОВ, ЗАНИМАЮЩИХСЯ СПОРТОМ СО СКОРОСТНЫМИ И СИЛОВЫМИ КАЧЕСТВАМИ //InterConf. – 2020.
АБДУСАЛОМОВА М. А., МАВЛЯНОВА З. Ф., КИМ О. А. Орқа мия ва умуртқа поғонасининг бўйин қисмининг туғруқ жароҳатлари билан беморларнинг диагностикасида электронейромиографиянинг ўрни //журнал биомедицины и практики. – 2022. – Т. 7. – №. 2.
Kamilova R. T., Mavlyanova Z. F., Abdusamatova B. E. Evaluation of the impact of systematic volleyball on somatotypological characteristics of the body //Bulletin of the Kazakh National Medical University. – 2016. – №. 4. – С. 212-217.
Stafford MA, Peng P, Hill DA. Sciatica: a review of history, epidemiology, pathogenesis, and the role of epidural steroid injection in management. Br J Anaesth. 2007; 99(4):461- 73. doi: 10.1093/bja/aem238
МАХМУДОВ С. М. и др. АНКИЛОЗЛАНУВЧИ СПОНДИЛОАРТРИТИ БЎЛГАН БЕМОРЛАР РЕАБИЛИТАЦИЯ ДАСТУРИГА ЯНГИЧА ЁНДАШУВ //ЖУРНАЛ БИОМЕДИЦИНЫ И ПРАКТИКИ. – 2022. – Т. 7. – №. 1.
Kim O. A. et al. Analysis of the subtypes of ischemic stroke in young age //European Journal of Molecular & Clinical Medicine. – 2020. – Т. 7. – №. 2. – С. 2509-2514.
Ropper AH, Zafonte RD. Sciatica. N Engl J Med. 2015; 372(13):1240-8. doi: 10.1056/NEJMra1410151
Fardon DF, Williams AL, Dohring EJ, et al. Lumbar disc nomenclature: version 2.0: Recommendations of the combined task forces of the North American Spine Society, the American Society of Spine Radiology and the American Society of Neuroradiology. Spine J. 2014; 14(11):2525-45. doi: 10.1016/j.spinee.2014.04.022
Schroeder GD, Guyre CA, Vaccaro AR. The epidemiology and pathophysiology of lum-bar disc herniations. Semin Spine Surg. 2016; 28(1): 2-7. doi: 10.1053/j.semss.2015.08.003
Euro U, Knekt P, Rissanen H, et al. Risk factors for sciatica leading to hospitalization. Eur Spine J. 2018; 27(7): 1501-8. doi: 10.1007/s00586-017-5182-8
Cook CE, Taylor J, Wright A, et al. Risk factors for first time incidence sciatica: a systematic review. Physiother Res Int. 2014;19(2):65-78. doi: 10.1002/pri.1572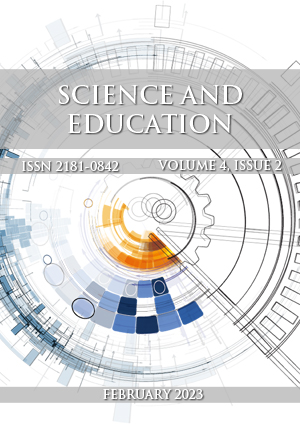 Downloads
How to Cite
Самиев, А. С., Мавлянова, З. Ф., & Эрназаров, А. Ж. (2023). Комплексная реабилитация больных с поясничными спондилогенными радикулопатиями. Science and Education, 4(2), 453–461. Retrieved from https://openscience.uz/index.php/sciedu/article/view/5060
License
This work is licensed under a Creative Commons Attribution 4.0 International License.