Заболеваемость раком пищевода среди мужчин и женщин в Республике Каракалпакистан
Keywords:
рак пищевода, заболеваемость, мужчины, женщины
Abstract
Статья основана на изучении распространенности рака пищевода в Республике Каракалпакстан. В течение исследования сравнивалась динамика показателей заболеваемости раком пищевода (РК) среди мужчин и женщин в районах и городах РК. За изучаемый период (2011-2021гг.) в Республике Каракалпакстан было зарегистрировано 1672 больных с впервые установленным диагнозом РП. Из них 38,6% - у мужчин и 61,4% у женщин,  у женщин наблюдалось в полтора раза больше случаев, чем у мужчин. Но за последние 5 лет (2017-2021 гг.) в мужской и женской популяции республики Каракалпакстан наблюдалось снижение показателей интенсивности заболеваемости раком пищевода по сравнению с предущими годами.
References
Данные государственной статистики РК о численности населения (по районам) [https ://www.qrstat.uz/uz/?preview=1&option=comdropfiles&format = &task=frontfile.download&catid=294&id=4153&Itemid=1000000000000]
Маматқулов Б. Тиббиёт статистикаси асослари Тошкент-2005й 114-126б.
Оразова Г.У., Карп Л.Л., Рахимбекова Г.А., Ногаева А.У. Математическое моделирование и прогнозирование заболеваемости раком пищевода и желудка в Казахстан 44-бет 2016
Петрова Г.В., Грецова О.П., Старинский В.В. и др. Характеристика и методы расчета статистических показателей, применяемых в онкологии. М.: ФГУ МНИОИ им. П.А. Герцена Росздрава, 2005. 39 с.
Рудык Ю.В., Афанасьев С.Г., Тузиков С.А. и др. Эффективность комбинированного лечения больных раком пищевода с применением неоадъювантной химиотерапии // Сибирский онкологический журнал. 2013. № 4 (58). С. 17–22.
Свирщевская Е.В. Коваленко Е.И. Стрельцова М.А. Каширина Е.И. Чудаков Д.Б. Заика Л.А. Потопальский А.И. «Статистика эпидемиологии рака» статья в сборнике трудов конференции 2016 53-58 – бет (Лондон)
Хасанов А.И., Шералиева С.Ж., Сайфутдинов Н.А., Абдурахмонов Р.Ш., Хамракулов Т. (РИОваРИАТМ Фарғона филиали) ФАРҒОНА ВИЛОЯТИДА ҚИЗИЛЎНГАЧ ВА МЕЪДА САРАТОНИДА ЎТКАЗИЛГАН ТАЖРИБА-СКРИНИНГИ НАТИЖАЛАРИ ВА МУОММОЛАРИ. 157-бет, журнал Клиническая и экспериментальная онкология, №3(5)–2018 Тошкент
Худойкулов Ж.Б., Абдукахарова М.Ф. ОСОБЕННОСТИ ЭПИДЕМИОЛОГИИ ОНКОЛОГИЧЕСКИХ ЗАБОЛЕВАНИЙ 46-бет, журнал Клиническая и экспериментальная онкология, №3(5)–2018 Тошкент.
Napier K.J., Scheerer M., Misra S. Esophageal cancer: a review of epidemiology, pathogenesis, staging workup and treatment modalities. World J Gastrointest Oncol. 2014 May 15; 6(5): 112–20. doi: 10.4251/ wjgo.v6.i5.112
Freddie Bray, Jacques Ferlay, Isabelle Soerjomataram, Rebecca L. Siegel, Lindsey A. Torre, Ahmedin Jemal. Global Cancer Statistics 2018. CA CANCER J CLIN 2018;68:394-424
https://oncology.ru/specialist/epidemiology/malignant/C15
GLOBOCAN 2018. International Agency for Research on Cancer - IARC (http://gco.iarc.fr/today) World Health Organization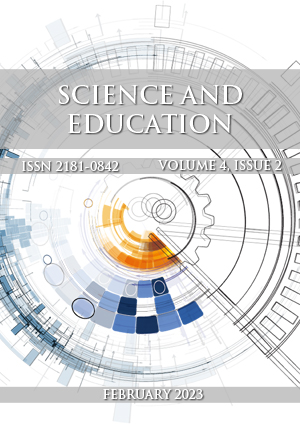 Downloads
How to Cite
Кудияров, И., Джураева, З., Абдуллаев, У., Орынбаева, З., & Мирвалиева, Н. (2023). Заболеваемость раком пищевода среди мужчин и женщин в Республике Каракалпакистан. Science and Education, 4(2), 493–497. Retrieved from https://openscience.uz/index.php/sciedu/article/view/5064
License
This work is licensed under a Creative Commons Attribution 4.0 International License.