Осложнения глюкокортикоидной терапии при COVID-19 на фоне сахарного диабета 2-типа
Keywords:
COVID-19, SARS-CoV-2, АПФ-2, ОРДС, цитокины, цитокиновый шторм
Abstract
В 2020 г. мир столкнулся с беспрецедентным вызовом для людей, связанным со вторжением нового коронавируса SARS COV-2. Это также вызов и для систем здравоохранения всех стран мира. Наиболее уязвимыми в данных условиях оказались пациенты с сахарным диабетом (СД) вследствие особенностей состояния их иммунного статуса и иммунного ответа на вирусную атаку, вследствие чрезмерно высокой активности вируса в условиях гипергликемии, вследствие коморбидности и ожирения, которые часто сопутствуют течению СД. Тяжелое течение заболевания COVID-19 требует обязательного пересмотра привычной сахароснижающей терапии. Крайне важным остается сохранение оптимального контроля гликемии, предупреждение развития кетоацидоза, в связи с чем в большинстве случаев приоритетным препаратом для контроля гликемии становится инсулин. Продолжаются поиски новых препаратов для борьбы с коронавирусной инфекцией, стартуют новые рандомизированные клинические испытания препаратов. В качестве кандидатов на потенциально эффективные средства для борьбы с коронавирусом испытываются в том числе и инновационные антидиабетические средства. Было установлено, что коронавирусная инфекция протекает тяжелее у лиц с сопутствующими хроническими заболеваниями. Также были выявлены частые осложнения со стороны сердечно-сосудистой системы, обмена веществ, аутоиммунные процессы и т.д. В данной статье приведен обзор исследований гипергликемии на фоне терапии глюкокортикоидами при ковид-ассоциированной пневмонии у лиц без предшествовавших нарушений углеводного обмена. Описаны механизмы развития гипергликемии на фоне патогенетической терапии цитокинового шторма при COVID-19. Целью данной статьи было изучение патофизиологии гипергликемии и выявление гипергликемии как одного из часто обнаруживаемых нежелательных осложнений при лечении глюкокортикоидами на фоне ковид-ассоциированной пневмонии. В статье приведены данные нескольких мировых групп исследователей об эффективных адекватных путях коррекции гипергликемии в соответстии с длительностью действия определенных инсулинов. Также показано, что тяжесть заболевания в большинстве случаев связана с гликемическим статусом пациентов, и этот показатель коррелирует с прогнозом течения коронавирусной инфекции. Кроме того, изучено значение биомаркеров воспалительных процесов при COVID-19. В статье приводятся данные о целевых показателях гликемии при гипергликемии во время лечения глюкокортикоидами на фоне COVID-19.
References
Nazira, K., Siddikovna, T. G., Davranovna, D. A., Takhirovich, D. A., & Tulkinovich, O. S. (2021). Cardiovascular complications in patients who have had covid on the background of diabetes mellitus 2. Central Asian Journal of Medical and Natural Science, 2(3), 37-41.
Takhirovich, D. A., Corners, S. J. A., Shukhratovna, N. G., Shukhratovna, S. G., & Zaynuddinovna, M. G. (2022). COURSE OF COVID-19 IN PATIENTS WITH DIABETES MELLITUS. Web of Scientist: International Scientific Research Journal, 3(02), 73-76.
Lim S, Bae JH, Kwon HS, Nauck MA. COVID-19 and diabetes mellitus: from pathophysiology to clinical management. Nat Rev Endocrinol. 2021;17(1):11-30. DOI: 10.1038/s41574-020-00435-4
Zeng Z, Yu H, Chen H, et al. Longitudinal changes of inflammatory parameters and their correlation with disease severity and outcomes in patients with COVID-19 from Wuhan, China. Crit Care. 2020;24(1):525. DOI: 10.1186/s13054-020-03255-0
Soy M, Keser G, Atagündüz P, et al. Cytokine storm in COVID-19: pathogenesis and overview of anti-inflammatory agents used in treatment. Clin Rheumatol. 2020;39(7):2085-2094. DOI: 10.1007/s10067-020-05190-5
Arabi YM, Chrousos GP, Meduri GU. The ten reasons why corticosteroid therapy reduces mortality in severe COVID-19. Intensive Care Med. 2020;46(11):2067-2070. DOI: 10.1007/s00134-020-06223-y
Sardu C, D'Onofrio N, Balestrieri ML, et al. Outcomes in Patients With Hyperglycemia Affected by COVID-19: Can We Do More on Glycemic Control? Diabetes Care. 2020;43(7):1408-1415. DOI: 10.2337/dc20-0723
RECOVERY Collaborative Group, Horby P, Lim WS, et al. Dexamethasone in Hospitalized Patients with COVID-19. N Engl J Med. 2021;384(8):693-704. DOI: 10.1056/NEJMoa2021436
Perez A, Jansen-Chaparro S, Saigi I, et al. Glucocorticoid-induced hyperglycemia. J Diabetes. 2014;6(1):9-20. DOI: 10.1111/1753-0407.12090
Hamdy O, Gabbay RA. Early Observation and Mitigation of Challenges in Diabetes Management of COVID-19 Patients in Critical Care Units. Diabetes Care. 2020;43(8):e81-e82. DOI: 10.2337/dc20-0944
Heinemann L, Linkeschova R, Rave K, et al. Time-action profile of the long-acting insulin analog insulin glargine (HOE901) in comparison with those of NPH insulin and placebo. Diabetes Care. 2000;23(5):644-649. DOI: 10.2337/diacare.23.5.644
Pérez A, Ramos A, Carreras G. Insulin Therapy in Hospitalized Patients. Am J Ther. 2020;27(1):e71-e78. DOI: 10.1097/MJT.0000000000001078
Mehta P, McAuley DF, Brown M, et al. COVID-19: consider cytokine storm syndromes and immunosuppression. Lancet. 2020;395(10229):1033-1034. DOI: 10.1016/S0140-6736(20)30628-0
Калмыкова З.А., Кононенко И.В., Скляник И.А., и др. Гипергликемия и возможные механизмы повреждения β-клеток у пациентов с COVID-19 // Сахарный диабет. 2020. Т. 23. № 3. С. 229-234. [Kalmykova ZA, Kononenko IV, Sklyanik IA, et al. Hyperglycemia and possible mechanisms of β-cell damage in patients with COVID-19. Diabetes mellitus. 2020;23(3):229-234. (In Russ)]. DOI: 10.14341/DM12485
American Diabetes Association. 15. Diabetes Care in the Hospital: Standards of Medical Care in Diabetes-2020. Diabetes Care. 2020;43(Suppl 1):S193-S202. DOI: 10.2337/dc20-S015
Lim S, Bae JH, Kwon HS, Nauck MA. COVID-19 and diabetes mellitus: from pathophysiology to clinical management. Nat Rev Endocrinol. 2021;17(1):11-30. DOI: 10.1038/s41574-020-00435-4
WHO Rapid Evidence Appraisal for COVID-19 Therapies (REACT) Working Group, Sterne JAC, Murthy S, et al. Association Between Administration of Systemic Corticosteroids and Mortality Among Critically Ill Patients With COVID-19: A Meta-analysis. JAMA. 2020;324(13):1330-1341. DOI: 10.1001/jama.2020.17023
Tatalovic M, Lehmann R, Cheetham M, et al. Management of hyperglycaemia in persons with non-insulin-dependent type 2 diabetes mellitus who are started on systemic glucocorticoid therapy: a systematic review. BMJ Open. 2019;9(5):e028914. DOI: 10.1136/bmjopen-2019-028914
Dobravc VM, Gruban J, Kerec KM. Incidence and control of steroid-induced hyperglycaemia in hospitalised patients at a tertiary care centre for lung diseases. Pharmacol Rep. 2021;73(3):796-805. DOI: 10.1007/ s43440-021-00234-2
Lakhani OJ, Kumar S, Tripathi S, et al. Comparison of Two Protocols in the Management of Glucocorticoid-induced Hyperglycemia among Hospitalized Patients. Indian J Endocrinol Metab. 2017;21(6):836-844. DOI: 10.4103/ijem.IJEM_226_17
Seggelke SA, Gibbs J, Draznin B. Pilot study of using neutral protamine Hagedorn insulin to counteract the effect of methylprednisolone in hospitalized patients with diabetes. J Hosp Med. 2011;6(3):175-176. DOI: 10.1002/jhm.874
Low Wang CC, Draznin B. Practical approach to management of inpatient hyperglycemia in select patient populations. Hosp Pract (1995). 2013;41(2):45-53. DOI: 10.3810/hp.2013.04.1025
Donner T, Sarkar S. Insulin — Pharmacology, Therapeutic Regimens, and Principles of Intensive Insulin Therapy. In: Feingold KR, Anawalt B, Boyce A, et al., eds. Endotext. South Dartmouth (MA): MDText.com, Inc.; 2019.
Zayed Y, Barbarawi M, Ismail E, et al. Use of glucocorticoids in patients with acute respiratory distress syndrome: a meta-analysis and trial sequential analysis. J Intensive Care. 2020;8:43. DOI: 10.1186/s40560-020-00464-1
Zhao JP, Hu Y, Du RH, et al. Expert consensus on the use of corticosteroid in patients with 2019-nCoV pneumonia. Zhonghua Jie He He Hu Xi Za Zhi. 2020;43(0):E007. DOI: 10.3760/cma.j.issn.1001-0939.2020.0007
Krinsley JS, Preiser JC, Hirsch IB. Safety and efficacy of personalized glycemic control in critically ill patients: a 2-year before and after interventional trial. Endocr Pract. 2017;23(3):318-330. DOI: 10.4158/EP161532.OR
Xiao JZ, Ma L, Gao J, et al. Glucocorticoid-induced diabetes in severe acute respiratory syndrome: the impact of high dosage and duration of methylprednisolone therapy. Zhonghua Nei Ke Za Zhi. 2004;43(3):179-182.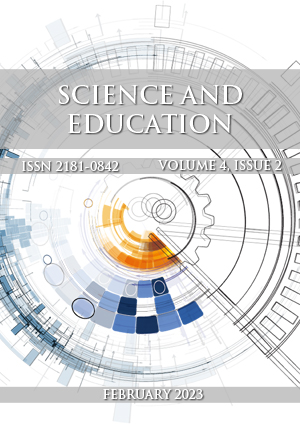 Downloads
How to Cite
Урунова, Ф. З., Амирова, Ш. А., Базарова, В. Р., Бахронова, М. Б., & Даминов, А. Т. (2023). Осложнения глюкокортикоидной терапии при COVID-19 на фоне сахарного диабета 2-типа. Science and Education, 4(2), 520–529. Retrieved from https://openscience.uz/index.php/sciedu/article/view/5068
License
This work is licensed under a Creative Commons Attribution 4.0 International License.