Designing the school physical plant and facilities: An instructional material for Technical Drafting 10
Keywords:
Technician Education, Technical Drafting, Drafting Instructional Material, 3-D Drawing
Abstract
The purpose of this study was to evaluate the physical plant status of the DepEd Toledo City Division in 2018 in order to suggest a development strategy. With the use of various statistical approaches, the researcher adopted a descriptive nominative approach. This is done to ascertain the conditions, practices, and scenarios that are typical of the research setting to find out what the superintendent of the Schools Division, the chiefs of the Curriculum Implementation Division, the School Governance and Operations Division, the Division Engineer, the Division Risk Reduction Management Project Development Officer, the section heads, the office staff, the school heads, and the teachers think about the various parts of the division's physical infrastructure. The first section, Plan A, contains the proposed five-year development plan for the physical plant and facilities of the DepEd Toledo City Division. This plan includes recommendations for improving the physical plant of the school and its facilities in order to accommodate the division's growing staff and to address any problems with those facilities that have been identified. The division's current maintenance program and practices are improved in the second part of Plan B, which is the presentation of an enhanced maintenance plan for the facilities of DepEd Toledo City. This will help to delay early deterioration of the division's facilities and structure. For technical drafting training, the proposed design orientation model of the physical plant and facilities can be used. Students studying technical drafting are permitted to utilize the design as a resource for their coursework.
References
Alpern, Justin, "CAD Drawings (blog), 2019" https://jalpern.weebly.com/cad- drawings.html
Andrew Baldwin and David Bordolli. " A Handbook for construction Planning and Scheduling, 2014."
Aquino, Benigno S. III, "Republic Act No. 10533, 2013" https://www.officialgazette. gov.ph/2013/05/15/republic-act-no-10533/ Cities Inspection, "Enemy of Any Home, 2016" http://www.citiesinspection.com/dev/hello-world-2/
Chua, Yvonne T. "DepEd rolls out calamity-resilient classrooms, 2014" https://www.philstar.com/headlines/2014/06/01/1329870/deped-rolls-out-calamity-resilient classrooms
Coban Engineering, "Technical Drawing Line Types, 2019" https://www.cobanengineering.com/GeometricDimensioningAnd Tolerancing/TechnicalDrawingLines.asp
"Drafting & Design 10, 2012" https://sites.google.com/site/smhsshop/ drafting-design-10
Greeno, Roger, Chudley, Roy. "Building Construction Handbook, 2013."
Lackney, Jeffrey A., Picus, Lawrence O. "Maintenance and Modernization of School Facilities, 2019." http://education.stateuniversity.com/pages/ 2394/School-Facilities.html
Maki, Bruce W., "Designing Stairs and Laying Out Stair Stringers, 2012" http://www.hammerzone.com/archives/ framecarp/technique/stairs/ outdoor.htm
Martinez, Rey R. "Five Year Physical Plant Development Plan for Talisay City College, Cebu. Published: Cebu City (Cebu Technological University), 2012."
PennState, "The Importance of School Facilities in Improving Student Outcomes, 2019"https://sites.psu.edu/ceepa/2015/06/07/the-importance-of-school-facilities-in- improving-student-outcomes/
Selina, Kolls, "The Ideal Work Environment, 2016" https://www.grin.com/document/341147
Spark Lighting, "LED Light for Schools, 2019" https://sparklighting.com/school-lighting/
"Stairwells, 2019" https://glamox.com/uk/solutions/stairwells
"Tippings Plumbing Sevice, Moisture is the #1 Enemy of Any Home (Part 1) (blog),2018" http://tippingsplumbing.com.au/ sewer-stormwater/
Uy, Bernardo L. "The Physical Plant of Cebu State College of Science and Technology, Main Campus, Cebu City: Development and Maintenance Plan, 2009."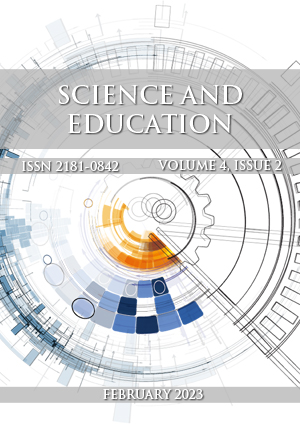 Downloads
How to Cite
Maribel B. Zamora. (2023). Designing the school physical plant and facilities: An instructional material for Technical Drafting 10. Science and Education, 4(2), 585–599. Retrieved from https://openscience.uz/index.php/sciedu/article/view/5083
Section
Technical Sciences
License
This work is licensed under a Creative Commons Attribution 4.0 International License.