SLAM texnologiyasidan foydalanishda duch keladigan muammolar va yechimlar
Keywords:
SLAM, mahalliylashtirish, navigatsiya, 2-D grafika, 3-D grafika, robot
Abstract
Ushbu maqolada bir vaqtning o'zida SLAM texnologiyasi muammolari haqida qisqacha ma'lumot berilgan. Biz ushbu maqolada SLAM texnologiyasidan foydalanishda duch kelinadigon turli qiyinchiliklar ya'ni, harakatlardan oldin xaritani yaratish, qora qutini mahalliylashtirish tizimi va ish paytida o'sib borayotgan onlayn xaritani ta'minlashlarni taxlil etiladi. Shuningdek, SLAM ning 2-D toʻrlari, 2-D grafiklari, 2-D xususiyatlari, 3-D vizual xususiyatlari va 3-D grafiklariga asoslangan keng tarqalgan variantlarini, shuningdek, ilovalar uchun ijobiy va salbiy tomonlarini muhokama qilinadi. Internetda mavjud ilovalarga ishora qilanadi va tajribalardan qaysi yondashuv qaysi ilovaga mos kelishi haqida maslahat beriladi.
References
Andreasson H (2010) An application of SLAM to localize AGVs. Tech. Rep. urn:nbn:se:oru:diva- 10393, Orebro University
Bailey T, Durrant-Whyte H (2006) Simultaneous localisation and mapping (SLAM): Part II state of the art. Robotics and Automation Magazine 13(3):108–117
Bay H, Tuytelaars T, Gool LV (2006) SURF: Speeded up robust features. In: Ninth European Conference on Computer Vision, software: included in the OpenCV library.
Birk A, Schwertfeger S, Pathak K (2009) A networking framework for teleoperation in safety, security, and rescue robotics (SSRR). IEEE Wireless Communications, Special Issue on Wireless Communications in Networked Robotics 6(13):6–13
Udo Frese, A SLAM overview from a user's perspective
Ubaydullayeva, G., Ismoiljonov, Y. K. O. G. L., Abdujabborov, O. O. O. G. L., & Muhammadjonov, S. S. O. G. L. (2022). Energiya Menejmenti tizimi (ISO 50001: 2018) standarti va uning xususiyatlari. Science and Education, 3(4), 149-156.
Zafar, J., & Yodgorbek, I. (2021). ANALYSING OF IMPLEMENTATION LEAN MANUFACTURING PRACTICES IN AUTOMOTIVE AND COMPONENT PRODUCTION COMPANIES. Universum: технические науки, (12-6 (93)), 82-85.
Ubaydullayeva, G., Abdujabborov, O. O. O. G. L., Tursunov, B. T. O. G. L., & Ismoiljonov, Y. K. O. G. L. (2022). Samarali ishlab chiqarish tizimida xarajatlarni kamaytirish orqali foydaga erishish. Science and Education, 3(3), 1143-1149.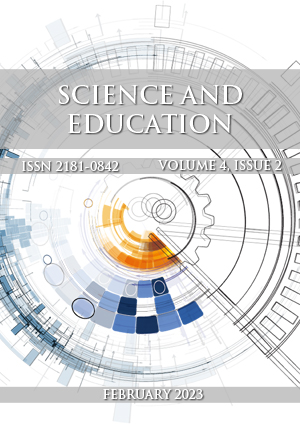 Downloads
How to Cite
Yusufov, A., & Juraev, Z. (2023). SLAM texnologiyasidan foydalanishda duch keladigan muammolar va yechimlar. Science and Education, 4(2), 731–737. Retrieved from https://openscience.uz/index.php/sciedu/article/view/5114
Section
Technical Sciences
License
This work is licensed under a Creative Commons Attribution 4.0 International License.