Эксплуатация шароитида "GM-Uzbekistan" енгил автомобиллари мотор мойини оқилона алмаштириш муддатларини аниқлаш тартиби
Keywords:
автомобиль транспорти, двигател, мотор мойлари
Abstract
Автомобиль транспорти двигателида ишлатиладиган мотор мойини тежаб ишлатиш ва атроф муҳитга зарарли таъсирини камайтириш масаласини ҳал этишнинг йўналишларидан бири - уларнинг оқилона алмаштириш муддатларини аниқлашдан иборат.
References
Кузнецов А.В. Топливо и смазочные материалы.- М.: Колос, 2017.- 413 с.
Разработка режимов сервисного обслуживания автомобилей эксплатируемых в Республике Узбекистан. Отчет по теме ГНТП № А-13-104. – Т.; ТАДИ, 2016.-126 с.
Магдиев, Ш. П., Авлиекулов, Ж. С., & Нарзиев, С. О. АНАЛИЗ ЭНЕРГОСБЕРЕГАЮЩИХ СВОЙСТВ МОТОРНЫХ МАСЕЛ В УСЛОВИЯХ ЭКСПЛУАТАЦИИ. ompozitsion, 176.
Nurmetov, K., Riskulov, A., & Avliyokulov, J. (2021). Composite tribotechnical materials for autotractors assemblies. In E3S Web of Conferences (Vol. 264). EDP Sciences.
Nurmetov, K. I., Avliyokulov, J. S., & Alimov, M. R. (2021). FEATURES OF THE STRUCTURE, COMPOSITION AND TECHNOLOGY OF COMPOSITE MATERIALS BASED ON POLYTETRAFLUOROETHYLENE. Frontline Social Sciences and History
Narziev, S. O., Avliyokulov, J. S., Alimuxamedov, S. P., & Sharopov, Z. Z. (2021). Development Of Research Methods for Determining the Operational Characteristics of Electric Vehicles in The Conditions of a Hot Climate of Uzbekistan. Texas Journal of Engineering and Technology, 1(1), 30-32.
Авлиёкулов, Ж. С., Нарзиев, С. О., & Магдиев, Ш. П. (2021). ИССЛЕДОВАНИЕ ПЕРИОДИЧНОСТИ ЗАМЕНЫ МОТОРНОГО МАСЛА В УСЛОВИЯХ ЭКСПЛУАТАЦИИ. Вестник науки и образования, (9-3 (112)), 16-19.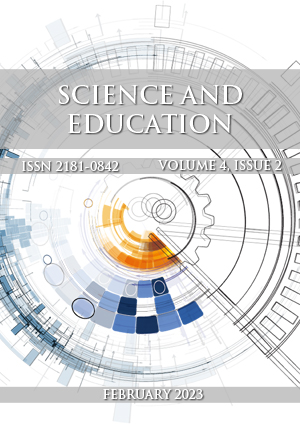 Downloads
How to Cite
Магдиев, Ш., & Авлиёкулов, Ж. (2023). Эксплуатация шароитида "GM-Uzbekistan" енгил автомобиллари мотор мойини оқилона алмаштириш муддатларини аниқлаш тартиби. Science and Education, 4(2), 786–789. Retrieved from https://openscience.uz/index.php/sciedu/article/view/5115
Section
Technical Sciences
License
This work is licensed under a Creative Commons Attribution 4.0 International License.