Юқори маркали боғловчиларнинг хусусиятлари
Keywords:
чиқиндилар, қайта ишлаш, боғловчи, нейтраллаш, унсурлар, услуб
Abstract
Мақолада энергия тежамкорлик мавзуси долзарб бўлиб турган замонамизда, нанотехнологиялар ва иновацион ишланмалар асосида, маҳаллий шарт-шароитдан келиб чиқиб, юқори самарали боғловчи моддалар тизимини ишлаб чиқиш борасидаги ғоя ва экспериментал ишланмалар натижалари, технологик регламент амаллари таклиф қилинади.
References
Кузнецова Т.В., Энтин З.Б., Альбан Б.С. и др. Активные добавки и их применение. Цемент. №10, 2001 г., с 6-8.
Малина Л.А. Проблемы производства и использования танкомотых многокомпонентных цементов. Бетон и железобетон, 2000 г., №2, с. 3-5.
Еленова А.А. «Разработка комплексной добавки для ускоренного твердения цементного камня», Москва, 2017 г.
Karimov G.U. et al. Modern Problems of Obtaining Low Water Demand Fasteners //Eurasian Research Bulletin. 2022, Т. 7, с. 12-17.
Karimov G.U. et al. Energy efficient binder of low water demand with modified mineral additives based on local available components // Euro-Asia Conferences. – 2021. Т. 4., №. 1., с.106-109.
Negmatov Z.Y. et al. Investigation of linear deformations of special slag-alkali cements //Academicia Globe: Inderscience Research. 2022. Т. 3., №5. с. 18-21.
Bakhriev N. F. et al. Bio Filler, Breathable Conglomerate, Thermo Physical Modeling, Bioresearches, Fractions, Shavings, Fibers, Gypsum, Dry Building Mixtures, Adhesion, Cohesion, Durability //JournalNX. – с. 393-401.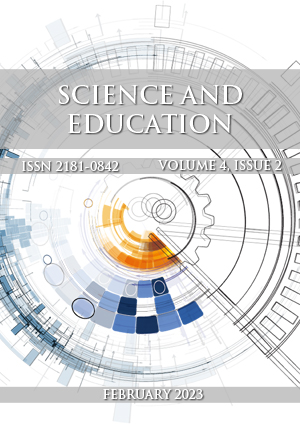 Downloads
How to Cite
Каримов, Г. У., Исматуллоев, Ф. З., & Турдиев, М. О. ў. (2023). Юқори маркали боғловчиларнинг хусусиятлари. Science and Education, 4(2), 835–839. Retrieved from https://openscience.uz/index.php/sciedu/article/view/5123
Section
Technical Sciences
License
This work is licensed under a Creative Commons Attribution 4.0 International License.