Developing K-2 Filipino children English language oral proficiency through concrete poetry teaching
Keywords:
Teaching pedagogy, literacy, k-2, English language
Abstract
The impact of concrete poetry as a strategy to increase word recognition in ten K-2 Filipino children with low oracy/literacy in English was examined in this six-month study utilizing the single-group pre-test/post-test method. Concrete poetry is a distinct form of poetry that comes in a variety of colors, textures, shapes, and even flavors. Either a static or dynamic poem is a concrete poem. These K-2 students, who were chosen at random from the preschools, were taught how to write their own concrete poetry and gained word recognition skills from them. It was believed that concrete poetry could aid increase word recognition by enhancing receptive and expressive oral vocabulary.
References
Beaty, R. E., Zeitlen, D. C., Baker, B. S., & Kenett, Y. N. (2021). Forward flow and creative thought: Assessing associative cognition and its role in divergent thinking. Thinking Skills and Creativity, 41, 100859.
Chia, N. K. H., & Education, S. N. (2009). Improving word recognition of K-2 Chinese children with low oracy/literacy in English language through concrete poetry teaching. Journal of Reading and Literacy, 1, 5-34.
Carstairs-McCarthy, A. (2017). Introduction to English Morphology: words and their structure. Edinburgh university press.
Davis, D. S., Jones, J. S., & Samuelson, C. (2021). Is it time for a hard conversation about cueing systems and word reading in teacher education?. Reading & Writing Quarterly, 37(4), 301-316.
Ding, N., Pan, X., Luo, C., Su, N., Zhang, W., & Zhang, J. (2018). Attention is required for knowledge-based sequential grouping: insights from the integration of syllables into words. Journal of Neuroscience, 38(5), 1178-1188.
Doing-Harris, K. M., & Zeng-Treitler, Q. (2011). Computer-assisted update of a consumer health vocabulary through mining of social network data. Journal of medical Internet research, 13(2), e37.
Ellis, P. D. (2011). Social ties and international entrepreneurship: Opportunities and constraints affecting firm internationalization. Journal of International business studies, 42, 99-127.
Kilag, O. K. T., Rabi, J. I. I. A., Dosdos, B. V. C., & Enriquez, B. V. (2022). A corpus-based analysis of learners' morpho-syntactic and spelling errors in writing: case study of PEGAFI senior high school students. Science and Education, 3(10), 337-348.
Lupton, E. (2014). Thinking with type: A critical guide for designers, writers, editors, & students. Chronicle Books.
Nagin, C. (2012). Because writing matters: Improving student writing in our schools. John Wiley & Sons.
Sasan, J. M., & Baritua, J. C. (2022). Distance learning as a learning modality for education during the COVID-19 pandemic. Science and Education, 3(8), 35-44.
Schmitt, N., & Schmitt, D. (2020). Vocabulary in language teaching. Cambridge university press.
Selg, P., & Ventsel, A. (2020). Introducing relational political analysis: Political semiotics as a theory and method. Springer Nature.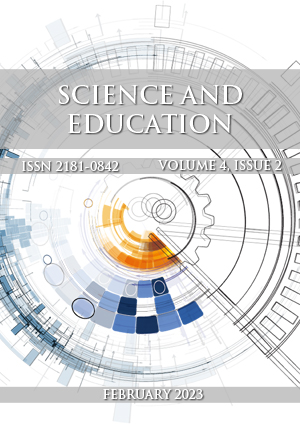 Downloads
How to Cite
Osias Kit T. Kilag, Jineva R. Jimenez, Felix M. Diano, Jr., Jhon Rey M. Balicoco, Artemio M. Echavez, Jr., & Angel Sherry C. Labasano. (2023). Developing K-2 Filipino children English language oral proficiency through concrete poetry teaching. Science and Education, 4(2), 886–895. Retrieved from https://openscience.uz/index.php/sciedu/article/view/5129
Section
Pedagogical Sciences
License
This work is licensed under a Creative Commons Attribution 4.0 International License.