Xorijiy tillarni o'qitish nazariyasi va metodikasi
Keywords:
pedagogik texnologiyalar, ongli qiyosiy metod, an'anaviy metod, intensiv metod, didaktika, metodning asosiy prinsiplari
Abstract
Ushbu maqolada xorijiy tillarni oʻqitishda zamonaviy texnologiyalar, jahon amaliyoti va soʻnggi nazariyalardan foydalangan holda, oʻquvchilarni ta'lim jarayonida faolligini oshirish va asosiysi oʻquvchining diqqatni torta oladigan fan oʻqituvchisi oʻzining turli metodikasi va salohiyati bilan oʻquvchilarni jalb qilish haqida so'z yuritiladi.
References
Samarova, S.R. (2019). Methods and technologies for the development of creative thinking of pupils. European Journal of Research and Reflection in Educational Sciences, 7(10), 37-43.
Samarova, S.R., & Mirzayeva, M.M. (2020). The problem of the formation of creative abilities of students in foreign psychology. An International Multidisciplinary Research Journal, 10(5), 1937-1943.
Rahmanova, M.K. (2019). Talabalarda ijtimoiy faollikni rivojlantirishning nazariy metodologik asoslari. Xalq ta'limi. (1), 24-29.
Shokarimova, K.A. (2020) pedagogik qobiliyat va pedagogik mahoratning ta'lim tarbiya berishdagi ahamiyati. Science and Education, 1 (Special Issue 2).
O'zbekiston Respublikasi Prezidenti Mirziyoyev.Sh.M. 2017-yil 7-fevraldagi "O'zbekiston Respublikasini yanada rivojlantirish bo'yicha harakatlar strategiyasi to'g'risida"gi PF-4947-sonli farmoni, O'zbekiston Respublikasi qonun hujjatlari to'plami. -2017-yil 6-son 70-modda.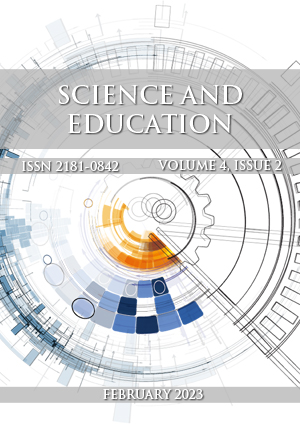 Downloads
How to Cite
Yoqubov, A. S. o'g'li. (2023). Xorijiy tillarni o'qitish nazariyasi va metodikasi. Science and Education, 4(2), 912–915. Retrieved from https://openscience.uz/index.php/sciedu/article/view/5132
Section
Pedagogical Sciences
License
This work is licensed under a Creative Commons Attribution 4.0 International License.