Alisher Navoiy siymosi tarixda
Keywords:
vatanparvarlik ruhi, insonparvarlik g'oyalari, she'riyat, ilohiy mo'jiza, milliy iftixor, tafakkur
Abstract
Ushbu maqolada Alisher Navoiy asarlarida vatanparvarlik tuyg'ulari ifodalanishining o'ziga xos jihatlari, bobomizning ijodiy merosini chuqurroq o'rganish va targ'ib etish, umumbashariy g'oyalarning mohiyatini ochib berish haqida fikr yuritilgan.
References
Alisher Navoiy " Hayratul abror" G'afur G'ulom nomidagi nashroyot-matbaa ijodiy uyi Toshkent-2006 yil 254-bet
Ҳақиқатманзаралари.100 мумтоз файласуф /Тақдирлар, ҳикматлар, афоризмлар.-Т.:Янги аср авлоди, 2013.-239-б.
Alisher Navoiy haytatul-abror, T.: G'afur G'ulom nomidagi Adabiyot va san'at nashriyoti, 1989 yil 334-335 betlar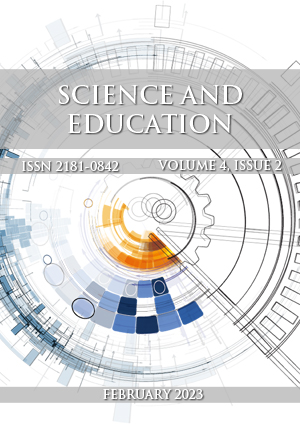 Downloads
How to Cite
Mardanov, R. G. o'g'li. (2023). Alisher Navoiy siymosi tarixda. Science and Education, 4(2), 1016–1019. Retrieved from https://openscience.uz/index.php/sciedu/article/view/5153
Section
Pedagogical Sciences
License
This work is licensed under a Creative Commons Attribution 4.0 International License.