The importance of oral communicative tasks in developing communicative competence
Keywords:
communicative competence, CLT, communicative tasks
Abstract
The success of developing communicative competence in teaching speaking is inseparable with the materials or tasks given to the students. The speaking teachers should really pay attention to tasks given that are more focused on oral communicative ones. The tendency of relying on student- centered communicative task is strongly expected to achieve the target of communicative competence development. Absolutely, the oral communicative tasks will activate the students' interest to communicate their ideas in oral form naturally. They will enjoy their communication process created without much interference of teacher. Negotiation of meaning and management of interaction in their speaking activities will automatically occur well.
References
Brandl. K. 2009. Chapter 8 Developing oral communication skills. In Communicative Language Teaching in Action. Upper Saddle River, NJ: Pearson/Prentice Hall.
Brown, D. 2000. Principle of Language Learning and Teaching. New York: Addison Wesley Longman.
Canale, M. and Swain, M. 1980. Theoretical bases of communicative approaches to second language teaching and testing. Applied Linguistics 1 (1), 1-47.
Haycraff, J. 1978. An Introduction to English Language Teaching. Singapore: Longman Group, Ltd
Hymes, et al. 1972. Directions in Sociolinguistics: The Ethogisthy of communication. New York: Halt, Rinertheart and Wiston.
Lee, J. 2000. Tasks and Communicating in Language Classrooms. New York: McGraw-Hill.
Littlewood, W. 1981. Communicative Language Teaching. Cambridge: Cambridge University Press.
Murcia, C. C. 2001. Teaching English as a Second or Foreign Language 3rd. New York: Heile & Heinle. Thomson Learning Inc.
NCLRC. 2004. Goal and Technique of Teaching Speaking. http://www.nclrc.org/essential/speaking/goalsspeak.htm# topotpage. Retrieved: 12 Feb 2012
Savignon, Sandra J. 1983. Communicative Competence: Theory and Classroom Practice. Menlo Park, California: Addison-Wesley Publishing Company
Widdowson, H. G. 1978. Teaching Language as Communication. Oxford: Oxford University Press.
Zainil. 2008. Actional and Functional Model (AFM). Padang: Sukabina Offset.
Рашидова Мунаввар Хайдаровна. 2021. Теория "Зона ближайшего развития" Л.С.Выгодского и технология скаффолдинг как основные понятия лингвометодической поддержки в обучении курсантов английскому языку. Science and Education.Volume 4 Issue 1. Pp. 688-695.
Rashidova Munavvar Xaydarovna. Recommendations on the use of scaffolding technology in English classes. Science and education. 2022. Volume 3. Issue 9. pp. 459-461.
Rashidova Munavvar Xaydarovna, Namozova Dilnoza Berdimurotovna. 2021. Effective methods of teaching. Materials of the republican 33-multidisciplinary online distance conference on "Scientific and practical research in Uzbekistan". Part-10. pp. 23-24.
Rashidova Munavvar Xaydarovna, Namozova Dilnoza Berdimurotovna. Teaching technical subjects through English. Ўзбекистонда миллий тадқиқотлар: даврий анжуманлар: 10-қисм. 32-б.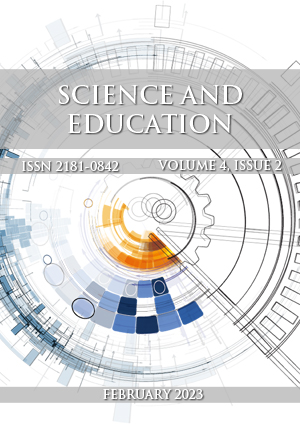 Downloads
How to Cite
Rashidova, M. X. (2023). The importance of oral communicative tasks in developing communicative competence. Science and Education, 4(2), 1033–1038. Retrieved from https://openscience.uz/index.php/sciedu/article/view/5157
Section
Pedagogical Sciences
License
This work is licensed under a Creative Commons Attribution 4.0 International License.