O'zbek haykaltaroshligidagi ayol obrazi talqini
Keywords:
oʻzbek haykaltaroshligi, ayol obrazi, milliy mafkura, geometrik xarakter
Abstract
Mazkur maqolada oʻzbek haykaltaroshligidagi ayol obrazi talqini, Oʻzbekiston monumental va dastgohli haykaltaroshligi, Oʻzbekiston ayollarining umumlashgan obrazi haqida batafsil bayon qilingan.
References
D. Po'latov. O'zbekiston zamonaviy haykaltaroshligining rivojlanish tamoyillari. San'atshunoslik fanlari nomzodini olish uchun dissertatsiya. Toshkent - 2007.
Taktash R.X. Haykaltarosh Azamat Xotamov. Sovet O'zbekistoni san'ati. - Toshkent - 2000.
Ahmedova N.R. Haykaltarosh anglagan haqiqat. SAN'AT. - Toshkent. 2015.
Akilova K.B. O'zbekiston haykaltaroshligi 1991 - 2006 O'zbekiston haykaltaroshligi 1991-2006. Toshkent, 2006.
Rahimov. J. San'atga aylangan lahzalar. O'zbekiston adabiyoti va san'ati. 2003.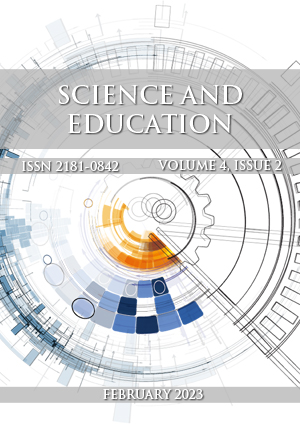 Downloads
How to Cite
Xatamov, A. K. (2023). O'zbek haykaltaroshligidagi ayol obrazi talqini. Science and Education, 4(2), 1093–1095. Retrieved from https://openscience.uz/index.php/sciedu/article/view/5168
Section
Pedagogical Sciences
License
This work is licensed under a Creative Commons Attribution 4.0 International License.