Использование речевых задач как условие формирование речевой компетенции младших школьников
Keywords:
Речь, общечеловеческой, культуры, школьника, формирование, логических
Abstract
В статье рассматривается использование речевых задач как условие формирование речевой компетенции младших школьников.
References
Модернизация образования: Хрестоматия. Часть 2 / О. В. Акулова, И. С. Батракова, Е. С. Заир-Бек и др.; Под ред. В. А. Козырева. Спб.: Изд- во РГПУ им А. И. Герцена, 2002. 68 с.
Выготский J1.C. Педагогическая психология / Л.С. Выготский. М.: Педагогика, 1991. - 447с.
Крижанская Ю. С. Грамматика общения / Ю. С. Крижанская, В. П. Третьяков. -2-е изд е. - М.: Смысл; Академич. проект, 1999. - 279 с.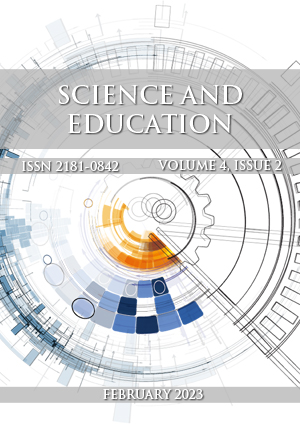 Downloads
How to Cite
Рузимова, М. К. (2023). Использование речевых задач как условие формирование речевой компетенции младших школьников. Science and Education, 4(2), 1337–1339. Retrieved from https://openscience.uz/index.php/sciedu/article/view/5211
Section
Pedagogical Sciences
License
This work is licensed under a Creative Commons Attribution 4.0 International License.