Kichik biznesning moliyaviy resurs manbalari
Keywords:
Kichik biznes, tadbirkorlik moliyasi, moliyaviy resurslar, moliyalashning ichki manbai, moliyalashning tashqi manbai, kredit
Abstract
Maqolada kichik biznesning moliyaviy resurs manbalari to'g'risida fikr yuritilgan. Shuningdek maqolada zarar ko'rib ishlayotgan kichik biznes korxonalarini moliyalashtirish manbalari to'g'risida bayon etilgan.
References
O'zbekiston Respublikasi Prezidentining 2022 yil 28 yanvardagi "2022-2026 yillarga mo'ljallangan YAngi O'zbekistonning Taraqqiyot Strategiyasi to'g'risida"gi PF-60-sonli Farmoni.
Xasanova G.D. O'zbekistonning investitsiya siyosati (Buxoro viloyati misolida). Научный журнал "Интернаука". Часть 2. Москва. 2019. № 9 (91). С.27-29.
Xasanova G.D. The role of investment in the development of the national economy (on the example of Bukhara region of the Republic of Uzbekistan). "Актуальные проблемы развития национальной и региональной экономики". Сборник научных трудов X Международной научно-практической конференции для студентов, магистрантов, аспирантов и молодых ученых. г.Белгород, 22 мая 2020 г. Стр. 256-263.
Xasanova G.D., Barnaev Z.Sh. Ways Of Improving Management Of Small Business In Increasing Employment Of Population (On The Example Of Bukhara Region Of The Republic Of Uzbekistan). "Современные проблемы социально-экономических систем в условиях глобализации". Сборник научных трудов XV Международной научно-практической конференции. г.Белгород, 21 октября 2021 г. Стр. 282-286
G'ulomov S.S. Tadbirkorlik va kichik biznes. T., 2002 yil.
G'ulomov S.S. Investitsiyani loyihaviy tahlili. T., 1995 yil.
https://openknowledge.worldbank.org/bitstream/handle/10986/32436/9781464814402_Ch06.pdf.
Калинин А.В. Анализ развития и состояние малого и среднего бизнеса в мире // Экономика, предпринимательство и право. – 2011. – № 4. – С.3-12. – http://epp.enjournal.net/article/313/.
Aripov O.А. Xоrijiy mamlakatlarda kichik biznes va xususiy tadbirkorlikni rivojlanishi. – Т.: "Namangan" nashriyoti, 2018. – 213 b.
Роль субъектов малого и среднего бизнеса предпринимательства в экономиках развитых стран. - https://cyberleninka.ru/article/n/.
Ильин И.Е. Малый бизнес в России: проблемы и перспективы // Банковское кредитование. – 2008. – № 2. С.153–156.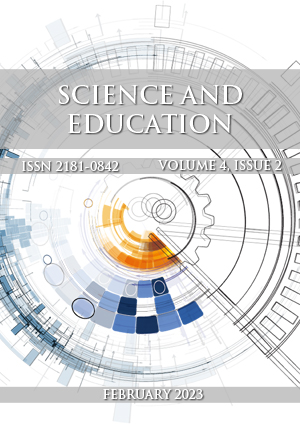 Downloads
How to Cite
Khasanova, G. D., & Boltaev, B. T. (2023). Kichik biznesning moliyaviy resurs manbalari. Science and Education, 4(2), 1560–1567. Retrieved from https://openscience.uz/index.php/sciedu/article/view/5246
Section
Economic Sciences
License
This work is licensed under a Creative Commons Attribution 4.0 International License.