Innovatsion menejment - samaradorlikni oshirish tizimi sifatida
Keywords:
innovatsiya, innovatsion faoliyat, innovatsion menejment, innovatsion jarayonlar, raqobat ustunligi
Abstract
Ushbu maqolada innovatsion faoliyat orqali kompaniyalar samaradorligini oshirishda innovatsion menejmentning o'rni, ahamiyati va vazifalari ko'rib chiqilgan. Maqolada innovatsiya va innovatsion menejment kategoriyalariga turli qarashlar tahlili keltirilgan.
References
OECD: The Measurement of Scientific and Technological Activities: Guidelines for Collecting and Interpreting Innovation Data: Oslo Manual, Third Edition., prepared by the Working Party of National Experts on Scientific and Technology Indicators, Paris, para. 146, - OECD, 2005. – P. 230.
OECD Frascati Manual, Edition Guidelines for Collecting and Reporting Data on Research and Experimental Development. – 2015, http://oe.cd/frascati
Antonio Martina. 7 Lessons From "Innovation and Entrepreneurship" By Peter F. Drucker, 2018. - B. 36-37. https://medium.com/@antoniomartina/7-lessons-from-innovation-and-entrepreneurship-by-peter-f-drucker-d7953127b3b5
Azimov, B. F., & Rakhimova, D. D. (2022). The role of research and innovations in the modernization of the regional economy. Conferencea, 43-47.
Азимов, Б. Ф., & Гулямов, О. Х. (2017). ОРГАНИЗАЦИОННЫЕ ФОРМЫ ПОДДЕРЖКИ ИННОВАЦИОННЫХ ПРОЦЕССОВ. Ученый XXI века, 100.
Азимов, Б. Ф. Формирование и совершенствование стратегии поддержки инновационной деятельности в регионах Республики Узбекистан / Б. Ф. Азимов // Молодой ученый. – 2022. – № 12(407). – С. 63-65. – EDN VQOYFQ.
Жумаева З. К., Расулова Н. Н. Инновационный путь развития экономики Узбекистана //Теория и практика современной науки. – 2019. – №. 5. – С. 224-226.
Бобоев, А. Ч. (2018). Ўзбекистонда тадбиркорлик субъектларининг инновацион фаоллигини рағбатлантириш йўллари. Интернаука, (20-2), 82-84.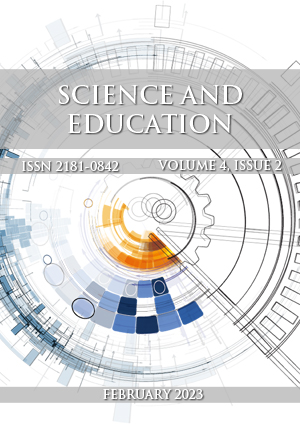 Downloads
How to Cite
Rasulova, N. N. (2023). Innovatsion menejment - samaradorlikni oshirish tizimi sifatida. Science and Education, 4(2), 1568–1572. Retrieved from https://openscience.uz/index.php/sciedu/article/view/5247
Section
Economic Sciences
License
This work is licensed under a Creative Commons Attribution 4.0 International License.