"Tulki va sher" ertagi matni ustida ishlash
Keywords:
boshlangʻich ta'lim, xalq ogʻzaki ijodi, ertak, ertak oʻqish darsi, ertak matni, maqol
Abstract
Ushbu maqolada boshlangʻich ta'limning 3-sinfida oʻqitiladigan "Tulki va sher" oʻzbek xalq ertagi matni ustida ishlashning metodik jihatlari koʻrsatib berilgan. Unda matndan olingan fikrni to'g'ri noto'g'riligi metodi va ertak qahramonlarini ijobiy salbiyga ajrata olish kabi talimiy o'yinlarini qo'llashning samarali tomonlari koʻrsatilgan.
References
O'zbekiston Respublikasi Prezidentining "2022-2026-yillarga mo'ljallangan Yangi O'zbekistonning taraqqiyot strategiyasi to'g'risida"gi PF-60-sonli farmoni// (Qonunchilik ma'lumotlari milliy bazasi, 29.01.2022-y., 06/22/60/0082-son, 18.03.2022-y., 06/22/89/0227-son, 21.04.2022-y., 06/22/113/0330-son)
Qosimova K, Matchonov S1. Ona tili o'qitish metodikasi.Boshlang'ich ta'lim fakultet talabalari uchun darslik: Toskent: Bayoz, 2022. 304bet.
Ona tili va o'qish savodxonligi 2-qism [Matn]: darslik 3-sinf uchun/ K.Mavlonova [va boshqalar.].- Toshkent: Respublika talim markazi, 2022.-144b.
Ведерникова Н.М. Русская народная сказка.-М.: Наука, 1975.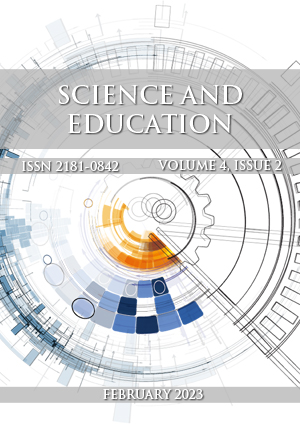 Downloads
How to Cite
Jumaniyozova, S. (2023). "Tulki va sher" ertagi matni ustida ishlash. Science and Education, 4(2), 1679–1682. Retrieved from https://openscience.uz/index.php/sciedu/article/view/5279
Section
Philological Sciences
License
This work is licensed under a Creative Commons Attribution 4.0 International License.