Момо (бабушка) - покровительница женщин
Keywords:
фольклор, обряд, культ, культ момо (бабушка), покровительские силы, узбекские обряды, имена духов момо
Abstract
Примечательно, что в фольклоре народов мира до сих пор сохраняются зачатки веры в культ момо (бабушки). Фольклор обрядов, сформировавшийся под влиянием представлений древних людей о «покровительских силах», эстетическая сущность обычаев, определение художественной интерпретации образа бабушки в фольклоре важны с точки зрения истории фольклора, этапов развитие мифопоэтического мышления. В статье идет речь о культе "момо" (бабушка), о видах узбекских народных обрядах связаннами с культом "момо", а также место и роль момо (бабушки) в провидение их.
References
Бегматов Э. Ўзбек исмлари. – Т.: Қомуслар Бош таҳририяти, 1991. – 208 б.
Бернштам А. Социально-экономической строй Орхоно-Енисеиских тюрок YI-YIII веков: Восточно-тюркской каганат и кыргизы. – М. – Л..: Изд-во АН СССР, 1946. – С.163.
Вербицкий В. Словарь алтайского и аладагского наречий тюркского языка. – Казань, 1884. – С.402.
Жўраев М. Ёмғир ёғдириш маросимлари // Ўзбек мавсумий маросим фольклори. – Т.: Фан, 2008. – Б.160-205.
Мирзаева С. Ўзбек халқ афсун-дуоларининг жанр хусусиятлари ва бадиияти. – Т.: Истиқлол, 2006. – Б.40-41.
Муродов О. Шаманский обрядовый фольклор у таджиков средней части долины Зеравшана // Домусульманские верования и обряды в Средней Азии. – М.: Наука, 1975. – С.21.
Мусақулов А. Ўзбек халқ лирикаси. – Т.: Фан, 2010. – Б.186.
Нарзуллаева Д. Момо культи билан боғлиқ мифологик тимсоллар. –Ўзбек тили ва адабиёти. – Тошкент, 2010, 2-сон, – Б.44-49.
Нарзуллаева Д. Интерпретация образа "момо" в узбекском фольклоре Вестник Челябинского государстенного университета. – Челябинск. № 28 (243) 2011. Выпуск 59. – С.71-73.
Нарзуллаева Д.С., Сафарова Н.О. "Бибимушкулкушод" афсонасида анъанавий эпик образлар талқини. Материалы I Международной научно-практической интернет-конференции "Тенденции и перспективы развития науки и образования в условиях глобализации". Сборник научных трудов. – Переяслав-Хмельницкий, 2015. Выпуск №1. – С.532-535.
Narzullaeva D. The genesis of the mythological charasters which exspress faith to "cult momo" and treir peculiarity. ISJ. Theoretical & Applied Science. –Philadelphiya, USA, Impact Factor, 2018. № 10 (66). – P.334-341.
Narzullaeva D., Khudaikulova L.The nature and genesis of "Bibisheshanba" and "Bibimushkulkushod" ceremonies. – Cyberpsychologu, Behavior, and Social Networking. – Vol. 24, No. 12, 2021. – P.781-788. (Web of Science). https://www.cyberpsychologybehaviorsocialnetworking.net/
Нарзуллаева Д. Система и генезис мифологических образов, выражающих веру в культ момо (бабушка). – Central Asian journal of theoretical and applied sciences. Volume: 03 Issue: 12 | Dec 2022. – P.47-52 ISSN: 2660-5317 https:// https://cajotas.centralasianstudies.org
Нарзуллаева Д. Момо культига ишончни ифода этувчи мифологик образлар генезиси. – Oriental Renaissance: Innovative, educational, natural and social sciences. Scientific journal Impact Factor. ORIENS Volume 2, Issue 12. ISSN 2181-1784. SJIF 2022: 5.947. ASI Factor = 1.7 Desember 2022. – P.909-916. www.orients.uz
Потапов Л.П. Алтайский шаманизм. – Л.: Наука, 1991. – С.287-288.
Рустамов А. Сўз хусусида сўз. – Т.: Ёш гвардия, 1987. – Б.125.
Сухарева О.А. Пережитки демонологии и шаманства у равнинных таджиков // Домусульманские верования и обряды в Средней Азии. – М.: Наука, 1975. – С.101.
Худойқулова Л. Ўзбек фольклорида Момолар культи. – Ўзбек тили ва адабиёти. – 2007. – 4-сон. – Б.50-53.
Ўзбек фольклори очерклари. 3 томлик. 1-том. – Т.: Фан, 1988. – Б.173.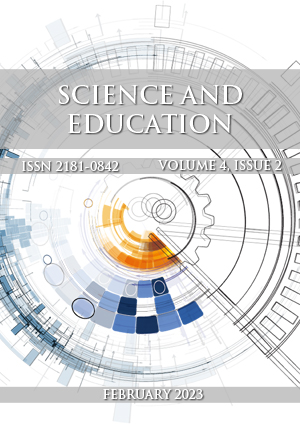 Downloads
How to Cite
Нарзуллаева, Д. С. (2023). Момо (бабушка) - покровительница женщин. Science and Education, 4(2), 1683–1690. Retrieved from https://openscience.uz/index.php/sciedu/article/view/5280
Section
Philological Sciences
License
This work is licensed under a Creative Commons Attribution 4.0 International License.