Somatic transformation: examining the role of body-oriented therapy in restoring health and well-being
Keywords:
body-oriented psychology, somatic healing, psychosomatic, holistic healing
Abstract
Somatic-based therapies have gained increased attention in recent years as a promising approach for promoting health and well-being. The objective of this research paper is to examine the role of body-oriented therapy in restoring health and well-being, specifically in the context of somatic transformation. Somatic transformation refers to the process by which individuals are able to transform their physical and emotional experiences into more integrated and adaptive responses. In this paper, we provide a comprehensive overview of body-oriented therapy, including its theoretical foundations, techniques, and applications. We review the current literature on the effectiveness of body-oriented therapy for treating a range of physical and psychological conditions, including trauma, chronic pain, anxiety, depression, and addiction. We then explore the concept of somatic transformation, drawing on the work of leading scholars and practitioners in the field. We examine the different stages of somatic transformation, including self-awareness, self-regulation, and self-actualization, and discuss the role of body-oriented therapy in facilitating each stage. Overall, this research paper highlights the potential of body-oriented therapy in promoting somatic transformation and restoring health and well-being. This paper aims to contribute to a deeper understanding of the role of the body in healing and to inform the development of more effective interventions for promoting health and well-being.
References
Cherkin, D.C., Sherman, K.J., Balderson, B.H., Cook, A.J., Anderson, M.L., Hawkes, R.J., & Turner, J.A. (2016). Effect of mindfulness-based stress reduction vs cognitive behavioral therapy or usual care on back pain and functional limitations in adults with chronic low back pain: A randomized clinical trial. JAMA, 315(12), 1240-1249.
Chou, R., Deyo, R., Friedly, J., Skelly, A., Hashimoto, R., Weimer, M., & Fu, R. (2017). Nonpharmacologic therapies for low back pain: A systematic review for an American College of Physicians clinical practice guideline. Annals of Internal Medicine, 166(7), 493-505.
Creswell, J.D., Taren, A.A., Lindsay, E.K., Greco, C.M., Gianaros, P.J., Fairgrieve, A., & Ferris, J.L. (2016). Alterations in resting-state functional connectivity link mindfulness meditation with reduced interleukin-6: A randomized controlled trial. Biological Psychiatry, 80(1), 53-61.
Garland, E.L., Howard, M.O., Priddy, S.E., McConnell, P.A., Riquino, M.R., & Froeliger, B. (2014). Mindfulness-based stress reduction for substance use disorders: A pilot randomized controlled trial. Substance Abuse, 35(3), 276-285.
Hofmann, S.G., Sawyer, A.T., Witt, A.A., & Oh, D. (2010). The effect of mindfulness-based therapy on anxiety and depression: A meta-analytic review. Journal of Consulting and Clinical Psychology, 78(2), 169-183.
Levine, P.A., Kline, M., & Lewis, J. (2015). Trauma through a child's eyes: Awakening the ordinary miracle of healing. North Atlantic Books.
Lu, Q., Telles, S., & Singh, N. (2016). A review of the literature on the effectiveness of tai chi in reducing depression symptoms. Journal of Mental Health, 25(3), 197-206.
Nakamura, J., & Csikszentmihalyi, M. (2014). The concept of flow. In Flow and the foundations of positive psychology (pp. 239-263). Springer Netherlands.
Ogden, P., & Fisher, J. (2015). Sensorimotor psychotherapy: Interventions for trauma and attachment. WW Norton & Company.
Payne, P., & Crane-Godreau, M.A. (2015). Meditative movement for depression and anxiety. Frontiers in Psychiatry, 6, 71.
Porges, S.W. (2017). The pocket guide to the polyvagal theory: The transformative power of feeling safe. WW Norton & Company.
Price, C.J., Wells, E.A., Donovan, D.M., Rue, T., & Mindful Recovery Study Group. (2018). Mindful awareness in body-oriented therapy as an adjunct to women's substance use disorder treatment: A pilot feasibility study. Journal of Substance Abuse Treatment, 94, 56-64.
Schore, A.N. (2019). Right brain psychotherapy. WW Norton & Company.
Sharma, M., Haider, T., & Knowles, A. (2017). Exploring the effectiveness of physical activity interventions in women with depression and anxiety: A systematic review and meta-analysis. Journal of Affective Disorders, 209, 116-121
Witkiewitz, K., Lustyk, M.K.B., & Bowen, S. (2014). Retraining the addicted brain: A review of hypothesized neurobiological mechanisms of mindfulness-based relapse prevention. Psychology of Addictive Behaviors, 28(4), 846-858.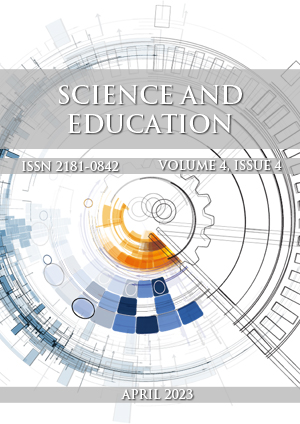 Downloads
How to Cite
Veckalne, R. (2023). Somatic transformation: examining the role of body-oriented therapy in restoring health and well-being. Science and Education, 4(4), 137–143. Retrieved from https://openscience.uz/index.php/sciedu/article/view/5497
License
This work is licensed under a Creative Commons Attribution 4.0 International License.