Bioecological characteristics of the model plant Thellungiella parvula
Keywords:
thellungiella parvula, model plant, salinity, drought
Abstract
In this article, the biological characteristics of the model plant Thellungiella parvula, salinity and drought tolerance functions are presented. The article also talks about the author's scientific research and feedback on the topic. In the study of the topic, methods of observation, comparison and analysis were used.
References
Timothy Ravasi, Harukazu Suzuki, Ken C. Pang, Shintaro Katayama, Masaaki Furuno, Rie Okunishi, Shiro Fukuda, Kelin Ru, Martin C. Frith, M. Milena Gongora, Sean M. Grimmond, David A. Hume, Yoshihide Hayashizaki, va John S. Mattick. Experimental validation of the regulated expression of large numbers of non-coding RNAs from the mouse genome. Genome Research, on February 20, 2015,
Jun Liu, Choonkyun Jung, Jun Xu, Huan Wang, Shulin Deng, Lucia Bernad, Catalina Arenas-Huertero, va Nam-Hai Chua, Genome-Wide Analysis Uncovers Regulation of Long Intergenic Noncoding RNAs in Arabidopsis, The Plant Cell, Vol. 24: 4333–4345, November 2012
F.P.G.van HorckC.E.Holt, Axonal mRNA Transport and Functions, Author links open overlay panel. https://doi.org/10.1016/B978-008045046-9.00710-5, Encyclopedia of Neuroscience, 2009, Pages 1123-1131.
X. Liu, L. Hao, D. Li, L. Zhu, S. Hu, Long Non-coding RNAs and Their Biological Roles in Plants, Genomics, Proteomics & Bioinformatics .2015.02.003
Shi-YanNg, LinLin, Boon SengSoh, Lawrence W.Stanton, Long noncoding RNAs in development and disease of the central nervous system, Trends in Genetics, Volume 29, Issue 8, August 2013, Pages 461-468
Tim R. Mercer, Marcel E. Dinger va John S. Mattick, Long non-coding RNAs:insights into functions, Nature Reviews, Genetics volume 10 | MARCH 2009, 155, 2009 Macmillan Publishers Limited. All rights reserved.
Eun-Deok Kim, Sibum Sung. Long noncoding RNA: unveiling hidden layer of gene regulatory networks, Trends in Plant Science, Author links open overlay panel. Volume 17, Issue 1, January 2012, Pages 16-21
Lina Ma, Vladimir B. Bajic va Zhang Zhang, On the classification of long non-coding RNAs, Pages 924-933 | Received 30 Dec 2012, Accepted 08 Apr 2013, Published online: 15 Apr 2013
John L. Rinn, Michae Kertesz, Jordon K.Wang, Sharon L Squazzo, Xiao Xu, Samantha A. Brugmann, L. Henry Goodnough, Jill A. Helms, Peggy J. Farnham, Eran Segal, Howard Y.Chang, Functional Demarcation of Active and Silent Chromatin Domains in Human HOX Loci by Noncoding RNAs, Cell, Volume 129, Issue 7, 29 June 2007
Abdurakhmanova Sh.A. SALT VARIETY OF THELLUNGIELLA PARVULA TO GROW BELOW THE CONCENTRATION EFFECT OF BLUE LIGHT (BLUE LIGHT BL) SPECTRA. WEB OF SCIENTIST. INTERNATIONAL SCIENTIFIC RESEARCH JOURNAL. https://wos.academiascience.org/index.php/wos/article/view/2905
Abduraxmanova Sh. A. Thellungiella parvula model o'simligining Mo'ynoq va Aydarko'l xududi tuproqlari suvli so'rimida unuvchanligi. ISHLAB CHIQARISHNING TEXNIK, MUHANDISLIK VA TEXNOLOGIK MUAMMOLARINING INNOVATSION YECHIMLARI. Xalqaro miqyosdagi ilmiy-texnik anjuman. 2-sho'ba. 376- bet. 28-29 oktyabr 2022 yil.
Abduraxmanova Sh. A. Sa`dullayev J. THELLUNGIELLA PARVULA MODEL O'SIMLIGINING BIOEKOLOGIK XUSUSIYATLARI. "Journal of Natural Science" №1(10) 2023 y. https://natscience.jdpu.uz.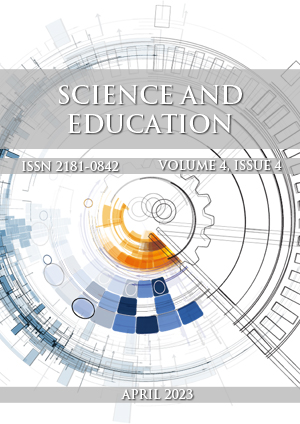 Downloads
How to Cite
Abduraxmanova, S. A. qizi. (2023). Bioecological characteristics of the model plant Thellungiella parvula. Science and Education, 4(4), 242–245. Retrieved from https://openscience.uz/index.php/sciedu/article/view/5520
License
This work is licensed under a Creative Commons Attribution 4.0 International License.