Особенности нарушения гепатобилиарной системы при подагре у женщин
Keywords:
гепатобилиарная система, подагра, метаболизм
Abstract
В данной статье приведена подробная информация об особенности нарушения гепатобилиарной системы при подагре у женщин.
References
Набиева Д.А., Ризамухамедова М.З., Мухамедова С.М. Характеристика метаболических сдвигов у больных подагрой // Журнал лечебное дело. Москва. 2016 г. 1 том. Стр.52-55
Набиева Д.А., Ризамухамедова М.З., Курбанова Ш.Р. К метаболическим сдвигам у больных подагрой // Проблемы современной ревматологии. // Москва. 2015 г. 2 том. Стр. 84-87
Набиева Д.А., Алиева К.К., Пулатова Ш.Б. Клинические особенности подагры у женщин // Всероссийский конгресс с международным участием «Дни ревматологии в Санкт-Петербурге - 2019». Сборник тезисов. 2019, сентябрь.
Ризамухамедова М.З., Набиева Д.А. Клинико функциональные особенности течения тофусной подагре // Журнал теоретической и клинической медицины.- 2016.- №2.-С. 23-27.
Набиева Д.А. Клинико диагностические особенности поражения печени при тофусной подагре // Вестник Ташкентской Медицинской Академии, спец выпуск.- 2016.-С. 93-94.
Ризамухамедова М.З., Набиева Д.А., Исакова Э.И. Диагностические и терапевтические аспекты поражения при подагре // Вестник Ташкентской Медицинской Академии.- спец выпуск.-2016.- С. 104-105.
Shodikulova G. Z. et al. The Correlation among Osteoporosis, Calcium-Phosphore Metabolism and Clinical Symptoms of Main Disease in Patients with Rheumatoid Arthritis //Annals of the Romanian Society for Cell Biology. – 2021. – Т. 25. – №. 3. – С. 4185-4190.
Таирова З. К., Шодикулова Г. З. RISK FACTORS AND FEATURES OF CORONARY HEART DISEASE IN PATIENTS WITH RHEUMATOID ARTHRITIS //ЖУРНАЛ БИОМЕДИЦИНЫ И ПРАКТИКИ. – 2022. – Т. 7. – №. 6.
Таирова З. К., Шодикулова Г. З., Шоназарова Н. Х. REVMATOID ARTRIT BILAN KASALLANGAN BEMORLARDA KOMORBID KASALLIKLARNING UCHRASH CHASTOTASI //Журнал кардиореспираторных исследований. – 2022. – Т. 3. – №. 4.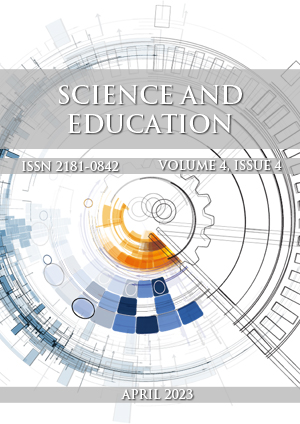 Downloads
How to Cite
Эргашева, Ш., Ташпулатова, М., & Уткурова, К. (2023). Особенности нарушения гепатобилиарной системы при подагре у женщин. Science and Education, 4(4), 328–332. Retrieved from https://openscience.uz/index.php/sciedu/article/view/5525
License
This work is licensed under a Creative Commons Attribution 4.0 International License.