Ikkilamchi polietilentereftalatning mexanik qayta ishlash retsikli
Keywords:
polietilentereftalat (PETF), ichki qovushqoqlik, xemoliz, poliolefinlar, quritish, ikkilamchi xomashyo, texnologik chiqindi
Abstract
Hozirgi kunda ishlab chiqarishning, fan va texnikaning rivojlanishi atrof-muhitga ko'plab turli chiqindilarning to'planishiga sabab bo'lmoqda. Yer aholisi soni o'tgan asrning boshidan to yangi asrning shu kunigacha bir necha barobar o'sdi. Bu esa o'z yo'lida ularni hayotiy zarur mahsulotlar bilan ta'minlash uchun mamlakatlarda ko'plab zavod-fabrikalarning qurilishiga, plastik chiqindilarning ko'payishiga olib keldi. Oqibatda tabiat ayovsiz ishlatildi va ishlatilmoqda va uning o'zi turli chiqindilar bilan to'lib toshmoqda. Ushbu maqolada polietilentereftalat chiqindilarini qayta ishlash usullari keltirilgan.
References
K.R Khujakulov, A.M Narzullaeva, Z.X Rayimov, R.N Niyozova, N.Q Jamilova, B.O Raxmonov. Analysis of Physical and Mechanical Properties of Skin Oil Based on Secondary Petroleum Products. ISSN: 2350-0328 International Journal of Advanced Research in Science,Engineering and Technology Vol.7, Issue 11 , November 2020. 15908-15913 pp.
O'G'Li, R. Z. K., & Qizi, J. N. Q. (2022). ANALYSIS OF IMPORTANCE AND METHODS OF PRODUCTION OF BLOCK SOPOLYMERS BASED ON POLYETYLENTEREPHTALATE. International Journal of Advanced Technology and Natural Sciences, 3(1), 51-55.
Zuhriddin, R., Niginabonu, J., Aminjon, V., & Temurbek, D. (2022). MECHANISMS OF ETERIFICATION OF TEREFTALIC ACID WITH ETYLENGLYCOL. Universum: технические науки, (5-11 (98)), 63-67.
Khujakulov, K., Mavlanov, B., Fozilov, S., Niyozova, R., & Komilov, M. (2021, September). Synthesis and research of fatty acids based on local secondary petroleum products. In IOP Conference Series: Earth and Environmental Science (Vol. 839, No. 4, p. 042073). IOP Publishing.
Zuhriddin, R., & Niginabonu, J. (2022). PRODUCTION OF POLYETHYLENE TEREPHTHALATE. Universum: технические науки, (5-11 (98)), 58-62.
G.A.G'afurova V.N.Axmedov, Z.X.Rayimov.Tereftal kislota hosilalari. ISBN 978-9943-9265-3-0 Monografiya "Durdona" nashriyoti. 2023. 152 bet.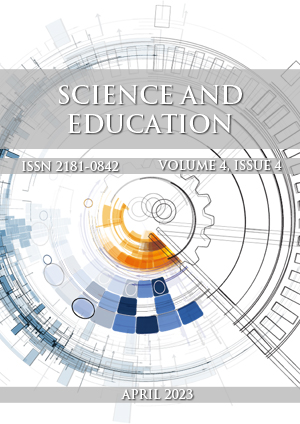 Downloads
How to Cite
Rayimov, Z. X. o'g'li, & Hayitov, S. T. o'g'li. (2023). Ikkilamchi polietilentereftalatning mexanik qayta ishlash retsikli. Science and Education, 4(4), 490–494. Retrieved from https://openscience.uz/index.php/sciedu/article/view/5545
Section
Technical Sciences
License
This work is licensed under a Creative Commons Attribution 4.0 International License.