Korxonalarda xodimlarni boshqarishning iqtisodiy usullari
Keywords:
tashkiliy loyiha, kadrlar menejmenti, iqtisodiy baholash, o'lchov iqtisodiyoti, xodimlarni boshqarish, mehnat unumdorligi
Abstract
Ushbu maqola boshqaruv tizimining mohiyatini o'rganishga bag'ishlangan xodimlar tomonidan. Ushbu maqolani yozish jarayonida ko'rib chiqilayotgan muammoning dolzarbligi aniqlandi, turli mualliflarning ilmiy ishlari o'rganildi ushbu mavzuning nisbiyligi, tizim tushunchasi tahlil qilindi xodimlarni boshqarish, uning xarakterli xususiyatlari aniqlandi, xodimlarni boshqarish tizimining ob'ekti va predmeti aniqlandi, o'rganildi xodimlarni boshqarish tizimining maqsad va vazifalari, shuningdek uning vazifalari. Yilda ish natijasida xodimlarni boshqarish tizimining samaradorligini oshirishga yordam beradigan chora-tadbirlar taklif qilindi.
References
Dobrolyubova, E.; Alexandrov, O.; Efremov, A. Is Russia Ready for Digital Transformation? Common. Comput. Inf. Sci. 2017, 745, 431-444, doi:10.1007/978-3-319-69784-0_36.
Trusova, N. Government social-economic policy under the digital economy in the foreign countries and Russia. Econ. Ann. 2019, 180, 88-96, doi:10.21003/EA.V180-10.
Barmota, K.A.; Akhmetshin, E.M.; Andryushchenko, I.Y.; Tagibova, A.A.; Meshkova, G.V.; Zekiy, A.O. Problems of business processes transformation in the context of building digital economy. Entrep. Sustain. Issues 2020, 8, 945-959, doi: 10.9770 / jesi.2020.8.1(63).
Berman, S.J. Digital transformation: Opportunities to create new business models. Strategist. Leadersh. 2012, 40, 16–24, doi: 10.1108 / 10878571211209314.
Romanovskaya, E.V.; Kuznetsov, V.P.; Andryashina, N.S.; Garina, E.P.; Garin, A.P. Development of the system of Operational and Production Planning in the Conditions of Complex Industrial Production. In Digital Economy: Complexity and Variety vs. Rationality; Springer: Cham, Switzerland, 2020; pp. 572–583.
Vardarlier, P. Digital Transformation of Human Resource Management: Digital Applications and Strategic Tools in HRM. In Contributions to Management Science; Springer Nature Switzerland AG: Cham, Switzerland, 2020; pp. 239–264.
Donnelly, R.; Jahns, J. Recontextualising remote working and its HRM in the digital economy: An integrated framework for theory and practice. Int. J. Hum. Resaur. Manag. 2021, 32, 84-105, doi:10.1080/09585192.2020.1737834.
Monsamy, M.; Telogdarie, A. Digital HRM Model for Process Optimization by Adoption of Industry 4.0 Technologies. In Proceedings of the 2019 IEEE International Conference on Industrial Engineering and Engineering Management (IEEM), Macao, Macao, 15-18 December 2019; pp. 374–378.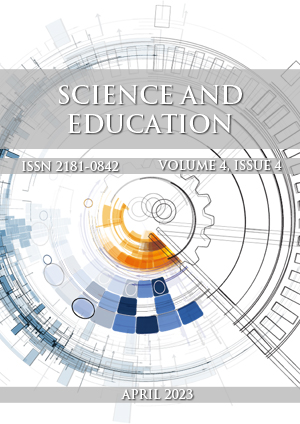 Downloads
How to Cite
Masharipova, D. R. (2023). Korxonalarda xodimlarni boshqarishning iqtisodiy usullari. Science and Education, 4(4), 1180–1183. Retrieved from https://openscience.uz/index.php/sciedu/article/view/5655
Section
Economic Sciences
License
This work is licensed under a Creative Commons Attribution 4.0 International License.